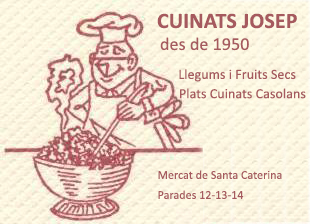 LARGE ASSORTMENT OF CROQUETTES
MONKFISH AND SHRIMP CROQUETTES,
PRAWN AND SAFFRON MILKCAP MUSHROOMS CROQUETTES,
ONION AND BLUE CHEESE (CABRALES) CROQUETTES
MUSHROOM AND GOAT CHEESE CROQUETTES
WALNUT AND GORGONZOLA CROQUETTES
AUBERGINE, DRIED TOMATO AND PROVOLONE CROQUETTES
SPINACH AND GOAT CHEESE CROQUETTES
KING BOLETE AND FOIE CROQUETTES
CURRIED CHICKEN CROQUETTES
LITTLE SQUID CROQUETTES
MONKFISH AND SHRIMP CROQUETTES
AND THE CLASSICS OF COD, CHICKEN, COOKED, IBERIAN HAM ETC.
In 1950 our family started a business dedicated exclusively to cooked legumes and dried fruit nuts. We currently represent the third generation of the family
The Catalan culinary traditions make our profession essential in the day-to-day life of our clients who, as in other places in our city, go daily to acquire our high quality legumes, cooked to perfection, to be finished, in different stews, salads, and accompaniments to traditional dishes in our city.
Our cooked chickpeas, beans, lentils, ganxet beans and legumes in all their varieties, both dry and cooked, turned our stall into a place of daily supply for our customers.
The new trends and the demands of our customers have led us to complement our traditional products with another star product, the result of our popular cuisine, such as our wide assortment of croquettes, with a range of varieties, for all tastes and especially with an incomparable gastronomic quality.
All this accompanied by our empanadas, our Italian pasta in different formats and sauces, as well as different vegetable dishes, all with our homemade style and high quality products. At our stall you can also find complementary products for your banquet, such as wines and cavas, which will undoubtedly accompany you adequately with our food.
And of course, following the tradition of our company, a wide assortment of top quality and local dried fruit and nuts, in its different varieties of fresh, toasted, etc. almonds in all its types and varieties, all kinds of raisins, hazelnuts, walnuts, pecans, pine nuts, etc.

See all of our products in: Instagram @cuinats_josep
Cuinats i Llegums Josep
Tel: 93.319.97.52
Stalls 12 - 13 - 14